The Semantic Desktop for Application Developers
Company or Project Affiliation:
Photo: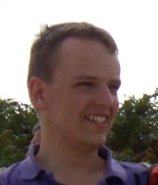 Short Bio:
Although not a Nepomuk developer himself, George Goldberg has worked extensively with Nepomuk over the last few years through his involvement in integrating the Telepathy Framework with the KDE Platform. He is a student of Electrical and Electronic Engineering at Imperial College, London, and the rest of the time works as a Software Developer with Collabora Ltd. George enjoys sailing, surfing and medium length walks on the beach.
Talk Abstract:
Nepomuk has now been with us for several years as a pillar of the KDE Platform. Despite adoption of this technology rising, it has yet to realize its full potential. The only way this can happen is for the wider developer community to get on board, and make use of it throughout their applications.
This talk aims to provide an introduction to how and why applications built on the KDE Platform should make use of Nepomuk. Avoiding details of how the Nepomuk infrastructure works internally, we will focus on the important part for application developers - how to use Nepomuk and the Semantic Desktop to create a better, more coherent user experience. The talk will make use of a real-life example, the KDE-Telepathy project, to illustrate how Nepomuk can and should be used.