A new activity based mobile user interface with Plasma and Nepomuk
Company or Project Affiliation:
Photo: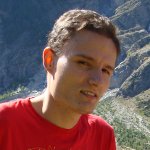 Short Bio:
Marco Martin holds a Master in Computer Science from the University of Turin, Italy.
He is a KDE contributor since 2007, mainly on The Plasma project.
He worked for Qt Development Frameworks on the Plasma Netbook shell, based around KDE and Plasma technologies. He is now working on the Plasma Active and Contour project, that will provide UI components to a wide spectrum of devices.
Fania Jöck studied Media-System-Design in Darmstadt, Germany. She worked as Information Architect and Interaction Designer in various agencies and is currently working at basysKom as Interface Designer. She contributes to the Contour UX in the KDE Plasma Active Project with her experience in creating appealing and well usable Interfaces.
Talk Abstract:
Over the past few years, for the whole life cycle of the KDE Platform 4th series, an important part of the KDE framework has been developed and improved: the Plasma library. Today, a complete workspace based on Plasma technologies is the primary user interface of the KDE desktop, but this is just the start of the journey.
Another important pillar of KDE technologies is Nepomuk, that handles all kinds of metadata like documents, contacts, websites etc to correlate them and help the user to find his/her way in the always increasing amount of data the user is faced with.
The classical approach of current mobile systems is based on the idea that the user first chooses the application to reach his goal. He has to search for data and has to order the information himself. This creates a traditional, very static and application-centric User Experience. A few months ago a new project called "Plasma Active" kicked off: the aim is to create a touching and desirable user experience for a spectrum of devices like tablet computers, smartphones and more. Contour is part of Active and handles a completely new UX approach of storing and analyzing usage patterns, current context and current activity to
provide the user a set of smart recommendations/actions.
The talk by Marco Martin and Fania Jöck will explain the concept behind Plasma Active and Contour, explain the current UI design and an introduction of the technical details behind the UI, as well showcase a real demo of the current development.
Project Website: http://community.kde.org/Plasma/Active