KDE Communities Far Far Away
Company or Project Affiliation:
Photo: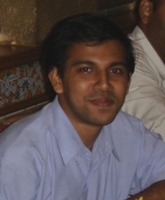 Short Bio:
He is a KDE contributor since 2005. He has contributed some bits to KDEPIM. He has been working with the KDE community in India and recently led an awesome team which organised the hugely successful conf.kde.in/2011, India's first Qt and KDE conference.
He lives with his family in a small town called New Panvel near Mumbai, India.
Talk Abstract:
KDE communities in India, China, Brazil and even Nigeria is quite different from what you generally see mostly in Europe and maybe in North America. They face different challenges that need to be tackled in different ways.
The audience is often different from what you would see in a general Free Software conferences in Europe. Audience can be made of people who were less familiar or completely new to KDE or even Free Software. How did we handle that? How not having a registered foundation in India makes it a bit difficult to organise funds? And how we get around that problem and keep it all fair and clean financially? How we slowly built up a team for 3 years that organised conf.kde.in? What were the most important points that we considered as "must-have" while organising conf.kde.in? And how we did went ahead with it? What were the show stoppers and how we got around them?
In this talk, I would like to address the above issues with the hope that other communities can learn and gain out of our experiences and put that into use for the growth of their community.