The Complexity of Everyday Technology
Photo: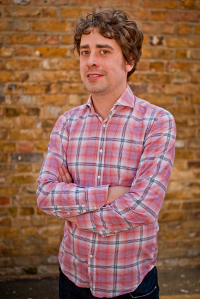 Short Bio:
Thomas Thwaites is a designer whose work examines how technology, science and economics interact with trends, fictions and beliefs to shape our present society and possible futures. As an undergraduate, he studied economics and biology at University College London; this training informs his design work. He completed his Masters in Design Interactions at the Royal College of Art in 2009, and his work has since received several awards and is exhibited internationally. His first book, The Toaster Project, is to be published by Princeton Architectural Press in 2011. Based in London, he is currently working on a commission from the Wellcome Trust.
Talk Abstract:
In an increasingly complex world, the best solutions come from looking at problems from a range of perspectives--technology, science, economics, politics, details/abstractions, mythologies, beliefs and trends.
Thomas shares his experience and expertise with:
communicating with design
creating from the future
interacting with diverse kinds of people
acting across boundaries between many different disciplines
testing ideas
He will demonstrate how design is an effective way of dealing with complexity, and speculate on how technology might change life in the future. Apropos to the collaborative Desktop Summit, Thomas shows how we all need others to produce even simple products.
Audience: Creatives, designers, engineers, the curious