Community Keynote Interview: Nick Richards
Nick Richards is an interaction designer. Not to be confused with graphic design, Nick's work is about the communication frameworks that connect people to data and tools. He helped the GNOME project with creating a useful and meaningful environment in GNOME 3, and he has also worked on the Moblin and MeeGo mobile OS projects. A Senior Interaction Designer at Intel, Nick contributes an important usability voice in design-driven development.
Nick will deliver the GNOME community's Desktop Summit 2011 keynote address on meaningful connections for humans and technology. To provide some insights about Nick, William Carlson asked him a few questions: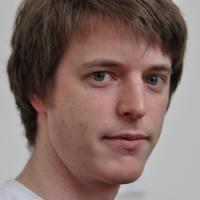 Nick Richards
William: What brought you here, and what do you do?
Nick: Hi, so it all started with the SuSE 7.0 boxed set and didn't really stop.
As for what I do, I'm an Interaction Designer, working for Intel in London at their Open Source Technology Centre. I've worked on Moblin, MeeGo and GNOME at Intel. Before that I worked for a design agency (along with Claire Rowland in fact) and a mobile operator.
William: What is important for you about being in the GNOME community, and where would you like to see it grow?
Nick: The diversity of voices and opinions is very important to me. That so many people from all over the world get together to make something is inspiring.
What I'd like to see grow? GNOME is people, and having more people would be great, especially if we could get more people from different places and backgrounds.
William: How does the community's diversity drive design development?
Nick: With design you're always looking to satisfy an audience. Given that the existing community is one of the audiences an open source project has, and certainly the most engaged, their priorities are most often going to be heard since by and large, they actually do the work.
William: What kind of things do you do as an Interaction Designer? Walk me through a typical day.
Nick: Draw boxes and then hook them together with arrows!
But seriously, most of the job is about communication. Talking to people to try and find out what needs to be done, what can be done and what is best to be done. Then when you've all come to an agreement, communicating that as simply and crisply as you can. That's what the aforementioned boxes and arrows are there for.
One thing I'm not so good at is making pixel perfect, super pretty mockups, thankfully that normally isn't part of the interaction designers remit.
William: What is your idea for tech gadgets of the future? A subtle presence, or more space-agey Star Trek kind of stuff?
Nick: Neither of the two really. Ever cheaper, ever more specialized. What once felt intrusive becomes subtle, not always with domestication, but certainly with the passage of time.
Star Trek technology is awesome to look at and maybe think about, but doesn't tend to fit easily into a life. We should aspire to make things that people can and want to use all day.
Currently my favourite '5 minutes into the future' author is Charles Stross, excellent for dystopian product ideas.
William: Well the way technology is going, it doesn't surprise me how science fiction sometimes become science reality.. :-)
Thank you very much for your time Nick, and see you in Berlin!
You can see Nick deliver his GNOME community keynote speech on Sunday August 7 at 4:10pm at the Desktop Summit 2011 in Berlin. The KDE community keynote will be delivered by Stuart Jarvis, who will speak on August 6.
Other Summit keynote speakers are Dirk Hohndel (Chief Linux and Open Source Technologist, Intel), Claire Rowland (UX Designer, Fjord) and Thomas Thwaite (Technologist).
Registration for the Desktop Summit is free. Sign up today